FMSF excels in delivering comprehensive financial management expertise to organizations. With deep knowledge and experience in financial practices, it offers services such as budgeting, financial planning, risk management, financial reporting, and internal controls. It enables organizations to achieve financial stability, transparency, and effective resource allocation, ultimately enhancing their overall financial management capabilities.

Our Approach
Our competency in the area of Financial Management has been achieved through extensive study and research.

We are involved in:
Project Accompaniment
Trainings & Workshops
Self-Assessment Tool - www.rateyourngo.org
Publications

Project Accompaniment
Effective management of financial resources is integral to any development work.

Development effectives can be achieved by facilitating -
process of smooth inflow of funds;
ensuring consistent implementation of the planned activities; and
complying with the reporting requirements.
We at FMSF address this area through financial project accompaniment, which begins at the pre-approval stage of the project and continues till the project is successfully closed. In this process, FMSF closely cooperates with both the funding organization on one hand and the implementing partner on the other. At present, we are providing project accompaniment to approx. 150 development projects.
Trainings / Workshops on Financial Management
FMSF conducts training programs and workshops focusing on effective financial management and internal control systems. Apart from organizing workshops and consultations, members of the FMSF Resource Team also facilitate workshops organized by other agencies.

This modular self-assessment rating has been developed as social accountability standards after years of research and feedbacks received from various organizations and experts. This self-assessment tool is a humble effort of FMSF in its stance to capture the urgent need of the development sector. As an organization which has been promoting accountability for more than two decades, this is a path breaking diagnostic tool. Voluntary organizations who wish to participate in this rating exercise are provided with a secure confidential report on the performance of their organization as per legal/accountability conformity laid down by the law of the land. If you wish to assess and rate your organization, please log onto www.rateyourngo.org
Publications
We recommend our latest publication Governance and Finance Handbook for NPOs - 5th Edition, a well-researched handbook of more than 600 pages that explains the various key finance, legal and governance aspects of NPOs in a laymans language.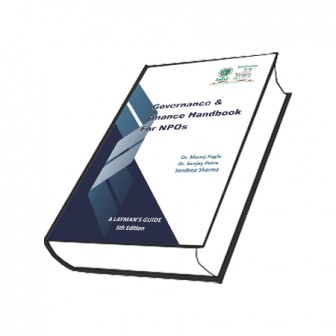 Click here to know more about the book